Pegasus PP-3760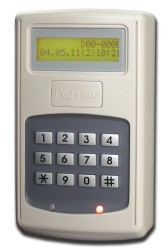 PP-3760/C2 Access Control / Time Attendance / ยี่ห้อ Pegasus
>รูปภาพการติดตั้งระบบ PP-3760/C2 รายละเอียดเพิ่มเติม
-------------------------------------------------------------------------------------------------
PP-3760/C2 Access Control / Time Attendance / ยี่ห้อ Pegasus
เครื่องควบคุมการเข้าออกประตูโดยการทาบบัตรสามารถรับบัตรได้ถึง 9,999 บัตร
ใช้ Time Zone กำหนดการผ่านของบัตรแต่ละใบ
มีจอ LCD 2 แถวฯละ 16 บรรทัด แสดงวันเดือนปี
สามารถต่อกับคอมพิวเตอร์ เพื่อดูข้อมูลของบัตรแต่ละใบได้ โดยซอฟแวร์ Time Attendanc
ต่อเป็นระบบ Network เชื่อมต่อกับ Computer ด้วย PCP-832-2AZ***
เลือกระบบการเข้าออกประตูได้ 3 แบบ 1.ใช้บัตรทาบ 2 ใช้บัตรทาบพร้อมกดรหัส 3.กดรหัส
เพิ่มหรือยกเลิกบัตรที่จะผ่านได้โดยง่าย ตัวเครื่องแข็งแรง ทนทาน ภูมิฐาน มีระดับ Full Option
เหมาะสำหรับ สำนักงาน-หอพัก-อพาร์ทเมนท์-คอนโด-บริษัท-ประตูทางเข้า ฯลฯ
-------------------------------------------------------------------------------------------------
สถานที่เหมาะสำหรับการติดตั้ง
1.ประตูทางเข้า-ออก สำนักงาน บริษัท ร้านค้า
2.ประตูห้องที่สำคัญ เช่น ห้องเก็บพัสดุ ห้องบัญชีการเงิน ห้องผู้บริหาร
ห้องเก็บเครื่องมือและของมีค่า ห้องศูนย์ข้อมูล
3.ประตูทางเข้า หอพัก อพาร์ทเมนท์ คอนโด โรงแรม
4..สถานที่อื่นฯที่ไม่อนุญาตให้บุคคลภายนอกเข้า
The PP-3760/C2 series is a Mifare card read / write system which integrate the supreme features of secured read / write data to Mifare card and the powerful functions possessed by the PP-3760 access & time recorder, so that the system can program the personal data to the individual ID card, and load the system parameters to each access recorder, then thru the very thoughtful algorism, the system can be configured to support the on-line / off-line applications in either time attendance, or perfect access controller and the prepaid value systems or their combinations.
-------------------------------------------------------------------------------------------------
Specifications:
Model No.
PP-3760/C2
Brand
Pegasus
Frequency
13.56 MHz
Passive cards / key tag
13.56 MHz ISO14443 A format
PG-PROXC-M-G1 ( Philips S50 chip)
PG-PROXC-M-G1 ( Philips S70 chip)
PG-PROXK-M-V1 (Philips S50 chip )
Reading distance
2-5 cm
Storage buffer
4,000 events and 3,500 card holders
Display
With 16 x 2 lines LCD for displaying time, date, ID number, terminal name, duty code description, personal name, decreasing value, balanced value, invalid card, no authorization in this terminal, anti-passback error, insufficient card credit , credit is low, validity of the card expiring…etc.
Case material and keypad
ABS with case cylinder lock, 4 x 3 keypad for system programming, pass word entry or duty code selection
Indicators
One bicolor, one yellow LED and buzzer for audible indication
Interface
RS-232C, RS-422 and RS-485
Transmission rate
300-115,200 bps, N,8,1 (default 4,800 bps)
Reset
Watchdog timer, power reset, self recovery watchdog
Working voltage
12V DC
Power consumption
150mA
Operation temperature
-10?C ~ 55?C
Humidity
5%~85% RH, Non condensation
Dimensions
174(L)x 100(W)x 45(H)mm
Weight

0.8kg ? 5%
-------------------------------------------------------------------------------------------------
Features:
To read and write 1kb or 4kb Mifare card programmed with card number, project code, personal name, surname, PIN code, total credit value, validity date, zone permission, IN/OUT recorder.

Check project code, card validity, terminal zone, anti-pass back status with system parameters to judge authorization.

The IN/OUT record and the consume value can be recorded to the Mifare card again.

The database in the Access system can be used to check the black list and validity to void the access status in the Mifare card, if necessary.

The access event, decreasing value and balanced value etc events can be saved in the reader memory.

The terminal name, 80 duty code names, and the prompt message variations can be uploaded by PC.

It can be linked with PC to retrieve the events.

It can be connected with serial printer through our PG-1050B to print out the card no., date, decreasing value and balanced value as a receipt.

RS-232C interface for a single reader, RS422 / RS485 interface for polling up to hundred of readers.

Could connect with TCP/IP converter for global networking.

Provides 4000 attendance / access transactions and 2500 personal black list.

It with compatible communication protocols to be controlled by personal computer through PCP-832-xx multi-channel controller.

Personal map, time map and door release time …etc. management with 144 bell schedules (6 schedules per hour) can be programmed for periodic bell announce, Black list card can be added / deleted in single or block range card by manual or download by PC.

Operation modes : 1.Card only (standard) 2. Card and PIN code (optional ) 3. PIN code only (optional ) 4. Operation mode is defined by time zone (optional ) 5. Mix personal operation mode (optional ) : it means each person with different operation mode.

Provides door driver output, exit push button, door release input, alarm output, tamper switch output and printer output.

Low power consumption, CPU with watchdog function.

The transactions can be kept in the controller for 10 years while power failure.
-------------------------------------------------------------------------------------------------
PP-3760/C2 ราคาพิเศษพร้อมติดตั้ง
| | | |
| --- | --- | --- |
| 1 | PP-3760/C2 Anti-Pass Back Prox Access/Attendance Controller | 1 |
| 2 | ชุด Power Supply พร้อมแบตเตอรี่สำรองไฟ | 1 |
| 3 | Electromagnetic lock 600 ปอนด์ | 1 |
| 4 | L&Z Fixcd Bracket 600 ปอนด์ | 1 |
| 5 | Proximility Passive key Card (บัตรทาบ) | 100 |
| 6 | Proximility Passive Key Tag (พวงกุญแจ) | 0 |
| 7 | เครื่องทาบบัตรด้านในแทนกดปุ่มสวิทช์ทางออก | 1 |
| 8 | ค่าติดตั้งพร้อมสายและราง | |
-------------------------------------------------------------------------------------------------
Proximity Reader Send out data read from proximity card without keypad for Wiegand output
เครื่องทาบบัตรด้านใน
| | |
| --- | --- |
| | |
| PUA-310 | PP-110 |
-------------------------------------------------------------------------------------------------
จำหน่ายบัตร Proximity ราคาพิเศษ
| | |
| --- | --- |
| | |
| Key Card | Key Tag |
i>รายละเอียดเพิ่มเติมเฉพาะ Pegasus KEY CARD Proximity Access Control NEW++++
| | | | | |
| --- | --- | --- | --- | --- |
| | | | | |
| | | | | |
| | | | | |
| | | | | |
| | | | | |
| | | | | |
-------------------------------------------------------------------------------------------------
บริษัท ดิจิตอล วิศวการ เซ็นเตอร์ จำกัด
TEL 0-2754-5199 0-2754-5133 0-2754-2963
Hot Line 081-9390211 081-4552234 080-6469123
FAX 0-2754-2964 Email:digital.999@hotmail.com